Each year influences all processes in the world and makes its own adjustments to the development of society's economic, political, and social spheres. During the last several years, IT outsourcing has proved to be one of the fast-developing in-demand areas, offering various services and options. So, businesses often find it challenging to select and decide which provider to prefer. IT outsourcing contributed US$361B in 2021 and US$395B in 2022 in the IT Services market, and its growth is forecasted to rise and reach US$587B by 2027.  
Earlier, the Powercode team shared with you outstaffing benefits for your business. Today, we're pulling back the curtain and telling what IT outsourcing tendencies will dominate this year and providing tips on how to find the right IT outsourcing vendor. 
What is IT Outsourcing?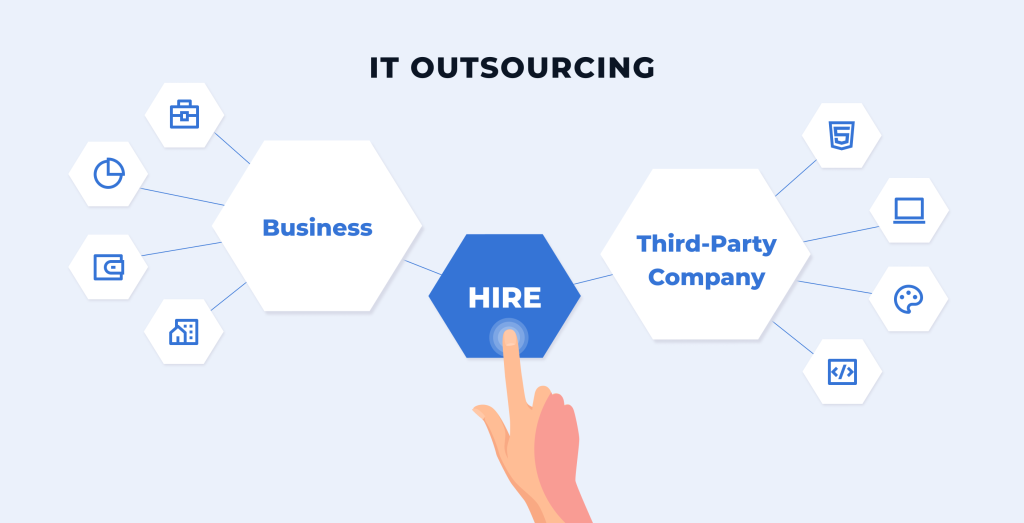 IT outsourcing is the transfer of specific tasks, responsibilities, business functions, or the development workflow to a third-party vendor with expertise in supplying these services – software development companies within and outside the country. Large and mid-sized companies across various industries turn to enterprise applications, cloud computing solutions, and other benefits of digitalization. They need fast and competitive scaling, which can be reached with the help of this business approach. 
Types of IT Outsourcing Services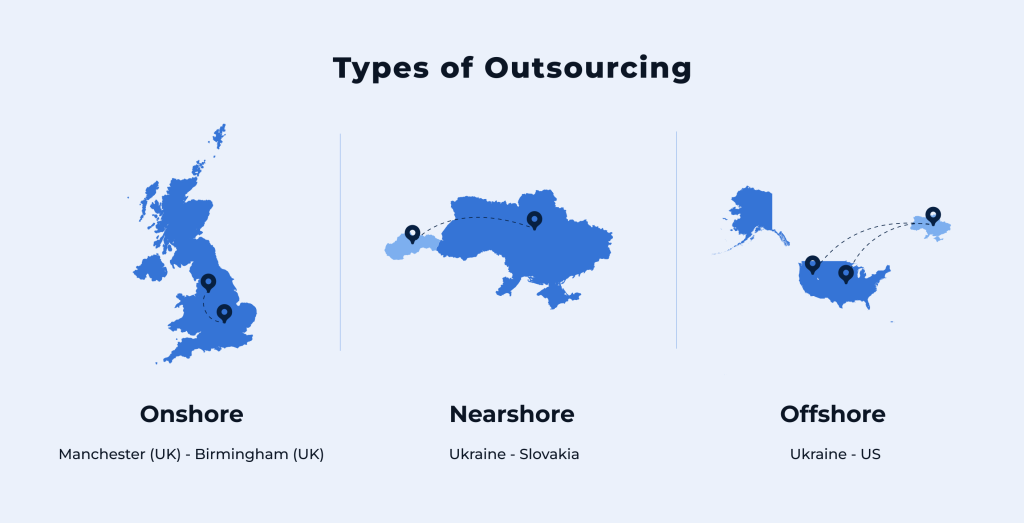 The form and geography of service delivery set different types of IT outsourcing. The relative distance between a company (client) and the service provider (vendor) is the foundation of location-based outsourcing. There are three types of such cooperation:
Onshore or domestic outsourcing enables customers to employ additional specialists within their country. Though it eliminates problems of different time zones, languages, and mentality, it can face a shortage of skilled specialists and high rates.
Nearshore outsourcing implies that a client assigns a vendor in a nearby country to execute IT projects. Nearshoring service providers usually do not have or have a time zone difference of little more than one or two hours from the customer one. 
Offshore outsourcing means that clients delegate their service development abroad to vendors who are physically located far enough from their country. Many companies prefer it because of reasonable rates, low taxes, and a larger pool of skilled professionals provided by offshore countries.
Outsourcing Trends For 2023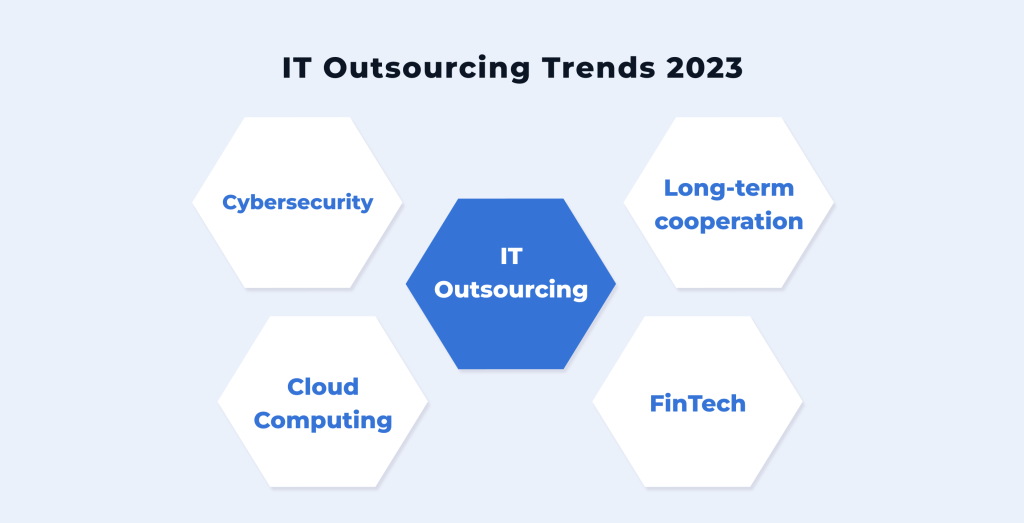 Cybersecurity 
With the growth of digitalization and the transition of many business processes to digital form, the issue of cybersecurity and personal data protection has become the most relevant because the level of threats and hackers' sophistication is only increasing. A significant growth in IoT-connected devices also contributes to their protection complication and requires additional actions. 
In the coming year, the demand for cybersecurity professionals skilled to cope with this fast-developing sector will grow, making IT outsourcing companies provide a greater variety of cybersecurity-related solutions. It offers businesses a low-cost method of maintaining the integrity of employee and customer data.
Cloud Computing 
During preceding years, there was a significant cloud migration that is still happening today but at a slower pace. This situation is explained by the fact that many businesses who scheduled this shift have already done it. Thus, global companies will tend to use not only outstaff services for cloud deployment but also for maintaining and increasing the efficiency of cloud-based operations. Cloud management outsourcing enables companies to save time, financial and psychological resources, and receive top-notch customer support. 
Experts and researchers also note the further development in AI and ML and the emergence of many solutions incorporating them. And because gathering data involves a significant amount of computing power and storage space, the cloud is the ideal location for such services. Besides, companies avoid potentially business-dangerous strategies and quit using private clouds, switching to multi-cloud approaches. HashiCorp 2022 State of Cloud Strategy Survey states that 90% of respondents who have already adopted multi-cloud say it is helping them achieve business goals.  
FinTech
FinTech is one of the fast-expanding industries with multi-billion revenues. Companies worldwide consider investing in this sector as sound and wise. Despite annual changes in capital expenditure, a general tendency of increase has been seen over the past years. In 2022, the most considerable investment in fintech companies was observed in the Asian Pacific region. 
Because of their functionality, customer-centric approach, user-friendly services, enhanced security, efficient management, and flexibility, fintech solutions have become increasingly popular and favored among businesses. FinTech services embrace everything from simple management of customer data, corporate and personal taxes to automating banking processes and online investment on the stock market. The decentralized financial space creates new opportunities for expanding public access to financial services. The amount of digital payment users worldwide is expected to increase to 5,480 million users by 2027. This parameter for the UK is predicted to reach 65 million, for Germany – up to 70 million, for the USA – 320 million users, and for France – 52 million users. 
Also, more people start using blockchain services due to their better cyber defense compared to other solutions. Enterprises will need more blockchain professionals, which are now few. Thus, they will contact outsourcing companies to find well-trained professionals in developing decentralized apps (dApps) and NFTs. In general, tangible benefits, apparent cost savings, and a chance to operate in a more efficient way will encourage companies to outsource more of their financial services and operations to FinTech suppliers.
Long-term cooperation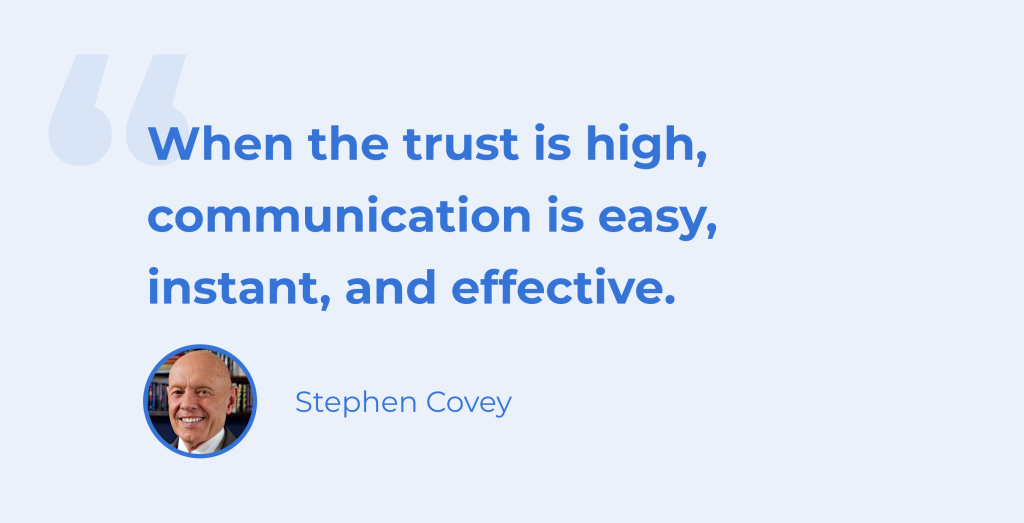 The IT outsourcing market includes thousands of companies providing their services worldwide. The customer can jump from one provider to another, choosing the new one for different projects. However, it does not guarantee the high quality of the final product and convenience in cooperation. When a firm constantly changes terms and operating procedures, chances are high that its productivity and ability to forecast vital business indexes will decline drastically. 
Thus, when a company has found an outsourcing service provider whose proficiency, method of operation, communication, and business ethics fully meet its expectations and demands, it tries to build a strong, trusting, long-term relationship. The advantage of such cooperation is that both parties know all the subtleties of working with each other and can maintain an agreed workflow that fully satisfies everyone. The number of changes and unexpected issues is also minimized, enabling customers to spend more time on other crucial activities and projects. Together, they will boost growth, forge a strategic advantage, and have a technological edge. 
Top IT outsourcing countries in 2023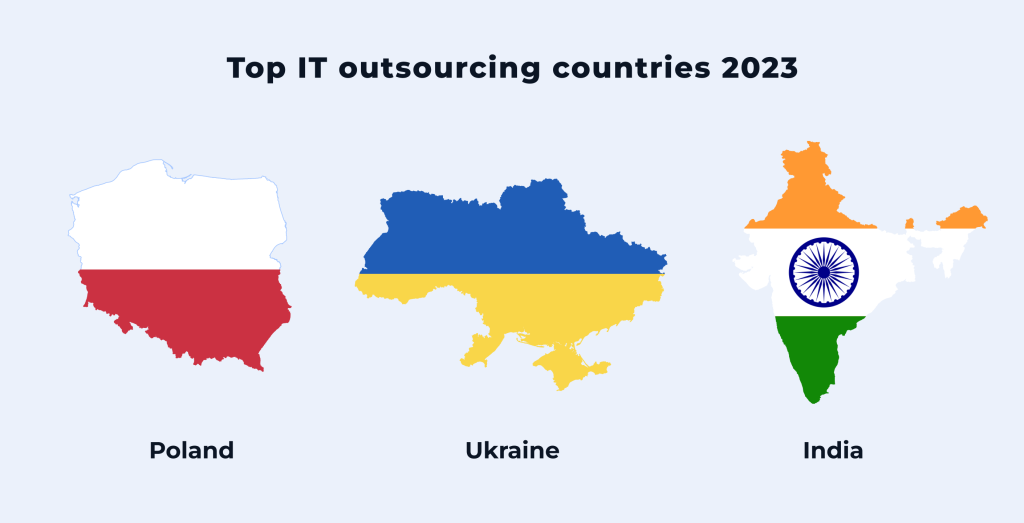 In 2022, employer demand for top expertise and languages increased, putting first such programming languages as Java, Python, SQL, and C++. The top 10 technical skills, which are actively looked for by employers, are Problem Solving, Machine Learning, REST API, React, HTML/CSS/JS, Data Wrangling, Node.js, Data Visualisation, Angular, and Data Modeling. So, where can they find such resources?
We have prepared our top 3 countries to consider when selecting the beneficial IT outsourcing partner based on such factors as English language proficiency, programming skills, and cost. 
Poland 
Countries of Eastern Europe strengthened their positions in the global service market, as evidenced by the data provided by The Global Services Location Index. Poland managed to improve its status and establish itself as an investment-attractive region and a nation with significant outsourcing potential thanks to its financial attractiveness and startup growth, especially in Warsaw and Krakow. 
It is ranked 13 in the EF EPI 2022 (English Proficiency Index) – the last in the list of regions with very high proficiency, guaranteeing ease of communication and language barrier overcoming. A software developer in Poland earns up to US$ 4,700 on average per month, including additional pay such as commission, tips, bonuses, etc. This sum is much higher than rates in Ukraine (US$1,390), a little bit higher than in Bulgaria (US$4,150) or Latvia (US$3,75) but lower than in Slovakia (US$4,960) and the Czech Republic (US$5,940). 
Regarding skills, most Polish developers have a university degree or have undergone special training. Poland has several Universities, AGH University of Science and Technology and University of Warsaw, which train top-skilled students with Java and SQL skills in the EMEA region. In the third quarter of 2022, the other most popular programming languages in the country were JavaScript, Java, and Python.
Ukraine 
Ukraine is ranked 35 in the English Proficiency Index, and it is the 4th among the countries with moderate proficiency, following Italy, Spain, and France. More than 50% of Ukraine software development specialists speak English at the Upper-Intermediate (B2) or Advanced (C1) levels (Common European Framework of Reference). This figure is higher for senior-level developers and equals more than 60% of their general number. It enables them to participate in any international project. 
Concerning salaries, as we have indicated earlier, the estimated total pay for a software developer from Ukraine is US$1,390 on average per month. In 2022, the rates for middle and senior developers stayed at the same level and rose slightly for junior ones. Relatively low rates do not mean poor quality or insufficient knowledge. On the contrary, Ukraine is among the ten global countries with the best-skilled developers who demonstrate profound expertise in many programming languages, with a predominance of JavaScript, TypeScript, React, Python, Java, and PHP. 
Some foreign companies had certain concerns about turning to Ukrainian companies because of the hostilities that are taking place in the country due to the Russian invasion in February last year. However, Ukrainian IT has proved its stress resistance, professionalism, and ability to work productively in any situation. Most employees of IT companies have moved to safer regions, and 27% of companies opened offices abroad and relocated their staff which has opened up new opportunities for effective outsourcing. More than 61% of Ukrainian software development companies have overcome most challenges. According to Mykhailo Fedorov, Minister of Digital Transformation of Ukraine, the IT sector grew and brought 10% more to the Ukrainian economy compared to the same period in 2021, and the part of IT services exports increased by 24% in 2022.  
India 
India is one of the world's top exporters of IT services, with US$227 billion in revenue in the IT sector in the fiscal year 2022. It is ranked 52d among 111 countries and 21st among 29 countries representing the region with moderate English proficiency. It creates some challenges for smooth communication with foreign partners. Another issue mentioned by international companies is the ability to write accurate custom code. 
The estimated total pay for a software developer from India is US$9,630 per year (about USD$803 per month). Though the rates are attractive in terms of cost-savings, it is necessary to consider all features, such as mentality, cultural peculiarities, business values, and communication, before making a decision. 
The most popular programming languages among Indian developers are Java, C++, and Python. Every year countries' leading universities graduate over half a million software engineers. For example, the University of Mumbai focuses on teaching Python, Javascript, and REST API, while Pune and PICT mainly concentrate on SQL and Java. 
How to Choose The Right Partner to Outsource Software Development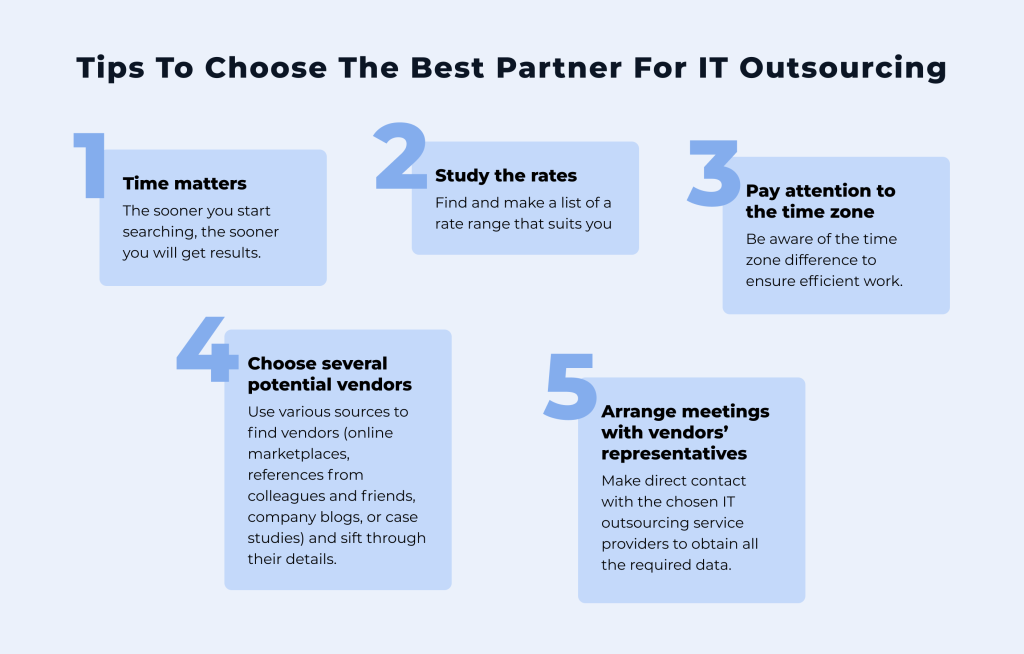 There is no universal solution because we are all unique and need the right product to reduce our pains and manage our demands. However, not everything is so sad. PowerCode has been providing IT outsourcing services to companies of different sizes and specializations worldwide for many years. We have noticed common features that unite all our customers and put them on the list of most effective and beneficial tips. Here they are. 
Time matters. The search process is always laborious, time-consuming, and sometimes even exhausting. You may need breaks to start with a fresh mind. But your project cannot wait forever. Every minute counts. Perhaps at this very moment, your competitor has already begun implementing a product with similar functionality or designed to satisfy similar needs. So, the earlier you start, the earlier you receive the result. 
Study the rates. Yes, the financial aspect is essential for a company, but it is optional in terms of obtaining high-quality products. High cost does not always mean high quality. When you find a rate range that works for you, list them, and start the next stage. 
Pay attention to the time zone. Of course, it is possible to get used to everything, and so many early birds or owls are among us. However, each company has its policy and schedule when we speak about business. So, you have to be aware of the time difference to ask about the organization of the working process. 
Choose several potential vendors and examine their details. There are several options where you can find providers of outsourcing services. The first is to ask your partners and colleagues whom you trust and value their opinions. The second is to study online marketplaces like Clutch, Dribble, and Goodfirms, where you can find the most trusted companies offering development, marketing, design, and IT services with general information (rates, year of foundation, number of employees, location, etc.), their portfolio, and fair reviews. The third is to find answers to your questions online through a company blog, where they regularly post their insights and share expertise. Case studies are another perfect way to dive into vendors' projects and experiences and find information on the technology stack.
Arrange meetings with vendors' representatives. When you have chosen those who appeal to you (we advise that their number does not exceed three), contact them and arrange a meeting to find out more about their services, current and past projects, and any information that can help you make the final decision.
Wrapping Up
Technologies are becoming more sophisticated, and the requirements for the technical skills of developers are growing. So it is not always easy (and cheaper) to find what you need among local professionals. IT outsourcing impacts the entire IT market, bringing its capabilities to the efficient operation and development of the customer's company. Recognizing current outsourcing trends and the best countries for software development outsourcing is essential to achieving synergy in the recruiting process. If you are looking for resources to expand your company, Powercode can help you with it. We cooperate with many companies across the globe, providing a wide range of high-quality IT outsourcing services and beyond. Sounds interesting? Let's discuss it. 

0