In today's tech-driven world, software development is no longer a luxury but an absolute necessity for companies that want to remain relevant and successful. With the range of options available on the market, it can be daunting trying to pick one – so how to choose a software development company? This blog post will help guide you in selecting a software development company that understands your goals and helps take your business strategies to new heights.
Why Choosing the Right Software Development Company Matters?
It's undeniable that selecting a skilled software development company can be the difference between success and failure – with it come greater productivity, streamlined operations, plus an improved bottom line.
But if you don't perform adequate research or go for one without prior proven results, unfortunately, your organization could end up in hot water; stuck with a lagging application unable to match exact specifications nor integrate effectively into current systems – not great news! So when choosing wisely matters more than ever before – make sure those providing solutions have experience under their belt and are renowned for delivering excellence each time.
Determine Your Software Development Needs and Goals
As you embark on your search for a software development company, don't forget to do some internal reflection first. You need to know exactly what you're hoping to achieve with the application and get an idea of what kind of features or functionalities it needs in order to meet these goals.
Additionally, understanding your budget constraints will also help narrow down possible providers that are able to present effective solutions at an affordable cost. Planning ahead can mean the difference between success and failure when developing new software applications!
Evaluate the Company's Experience and Expertise
It's time to find the perfect software development company that can meet all your needs. Consider experience and expertise, such as how long they have been in operation or if they specialize in a type of industry like yours. Additionally, make sure there are appropriate quality assurance measures implemented within their process – this will ensure you get the best results for your project!
When choosing a tech partner, assess their technical abilities to ensure they can deliver the outcome you desire. Do they demonstrate expertise in your required technologies? Make sure to consider their development methodology and solid quality control protocols. Ensure projects move forward with complete precision and efficiency – leave no room for mistakes!
How To Choose A Software Development Company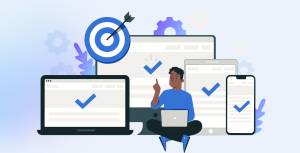 Choosing the best software development company for your business can seem like a daunting task, but don't let it be. To make this process easier and ensure future success, here are some key tips to consider when deciding on that perfect fit:
Reputation: Do your due diligence when selecting the perfect fit for a project – from industry-leading reviews to trustworthy references and an impressive portfolio, make sure you pick the company with a glowing reputation in its space.
Communication: If you're looking for a successful software development project, communication is crucial. Pick a provider that fosters open dialogue and keeps the lines of communication consistently flowing!
Pricing: Price may be an important factor, but don't let it be your decisive criterion. Instead, analyze what kind of value a potential partner can bring to the table and make sure you get results for every dime you spend!
Flexibility: Owning a business with the capability to adjust and modify according to your needs is an essential factor in success. Possessing this type of flexibility will undoubtedly bring you one step closer towards achieving your goals.
Security: Safeguarding your data and protecting your ideas should be of utmost importance. Ensure that the company you partner with has solid security protocols in place to keep those assets safe.
Support: If you're looking for a long-term partnership, search for a business that offers consistent support and maintenance – even after the project is wrapped up. That way, your collaboration keeps on going!
In conclusion
The selection of the right software development firm is a make-or-break decision for any organization. To ensure success, it's essential to take into account your business needs and choose an experienced company with the expertise and reputation required to deliver solutions that meet those demands precisely. With numerous potential partners on offer, taking time out to properly evaluate all options can often be beneficial in finding results tailored just right!

When it comes to optimizing the potential of your business, settling for just any software development company can lead you down a slippery slope. The key is to invest ample time into choosing the right partner that aligns with both your unique needs and goals – if done properly, this could be propelling step towards success! Check out our tips here on finding how to choose a software development company to push forward with growth and progress.

0