Modern realities require any business to be actively presented in the online environment. It is hard to imagine ambitious startups that do not have at least a landing page. What can we say about the major players in the market? Our previous articles discussed the necessity of cooperation with software companies and the principles of building high-performance teams for new projects. This time we will concentrate on the much-discussed topic of outstaffing and how it can benefit companies and help them succeed. 
According to statistics, in 2023, the market for IT services is anticipated to generate $1,204.00 billion in sales with a $430.50 billion market volume of IT outsourcing. Besides in-house development, a business can choose two offshore development models: software outsourcing and outstaffing. Let us consider them in more detail.
Outstaffing vs Outsourcing vs In-House Development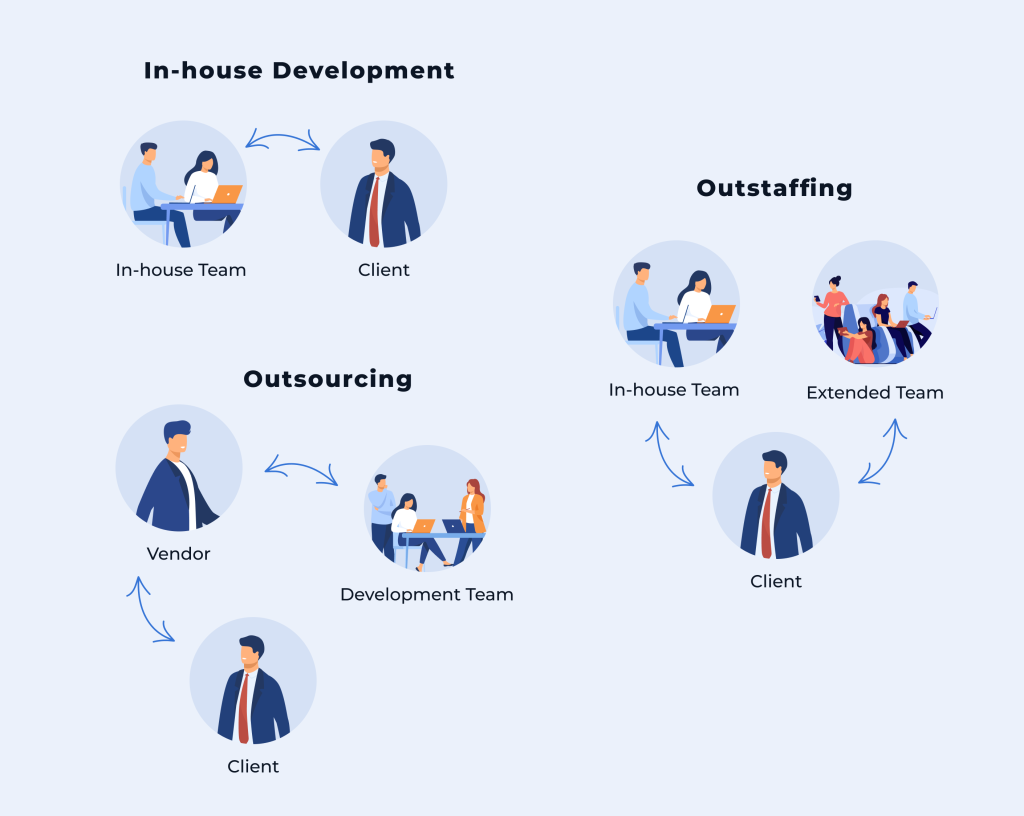 If you have ever thought about developing software or creating your website, you 100% have seen or heard all these three terms. If everything is more or less clear with in-house development, then everything is more complex with the remaining two. We will not write here an abstruse outstaffing definition or outsourcing interpretation. There are too many specialists online who do it. We aim to explain everything so that all the puzzles come together in one picture in your head, and you can quickly put them back together even if they are reshuffled. So imagine we are talking about… a bicycle. 
The in-house development team is like the bike that you own. You know everything about it; you can make various manipulations with it, upgrade, and keep it in good condition. So, you work with full-time developers with a standing or fixed salary negotiated when employing, with the required equipment and conditions you are obliged to provide them as the company owner. They are always available, or you know where they are. You can set up a meeting or call at a convenient time and give the command to start or stop doing a particular task straightaway. 
The Outsourced team is like a pedicab or bicycle taxi (Rickshaw). You achieve your goals by using the services of employed companies specialized in transporting passengers for hire. Outsourcing is delegating software development tasks to contracted organizations (domestic or foreign) with the appropriate specialization, which guarantee the implementation of the agreed tasks under the approved scope of operations. Outsourcing is a more comprehensive way to offer IT services compared to outstaffing. The company signs a contract of work, not one for providing a particular staff member. The project is run entirely under their supervision.  
The Outstaffing model is like bike sharing when you take an available bicycle for temporary short-term use from specialized companies. The same applies to software developers, whom you can employ to work on your project or a part of it on a temporary basis. Even though they are engaged in a project for you, they are officially listed as employed in the outstaffing company. Concerning the responsibilities, the manager on your part is in charge of creating the backlog, assigning tasks, and ensuring that all reports and activities are documented in your system. 
Common In-House Development Pains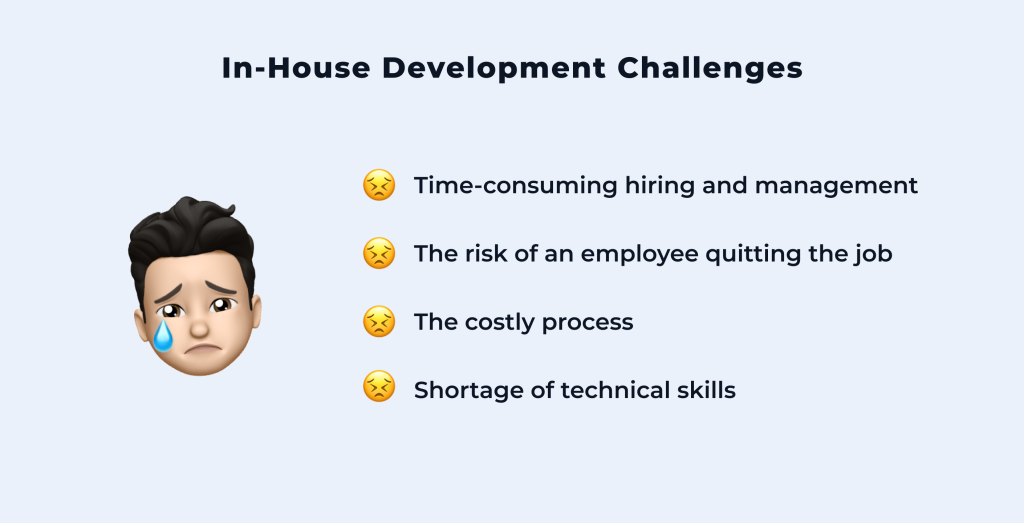 Time-consuming hiring and management
The process of hiring an employee is not a quickly addressed issue. A sufficient amount of time passes from the moment of searching and hiring. First, you must place a job advertisement, collect CVs, conduct several interviews, give and check a test task if necessary, give feedback, and coordinate all employment issues. The next step is onboarding and mentoring. You should also not forget about training, meetings that can occur more than once a week, and setting tasks and other routines, which take a lot of time and effort. 
Even with access to the best databases of specialists and working with the top HR professionals, there is only a tiny chance that you will be able to find the right candidate quickly.
The risk of an employee quitting the job

 
In addition to its advantages, such as total control over the situation and an easier and faster way to communicate and solve problems, working with people formally employed in your company comes with several risks. One of these pitfalls is that you cannot be sure your employee will stick with you for the entire contract and will not wish to switch jobs at the worst possible time. According to statistics, the turnover rate in software is 16.24%, in design – 8.25%, and in IT – 10.39%. There is no assurance that your team members will stay with you if they receive a more tempting offer or rethink their career or personal objectives. They can leave at any moment, putting the project in jeopardy. 
The costly process
Hiring in-house developers is quite expensive because it involves not just simple recruiting but also associated costs such as investments in staff training, internships, equipment costs for their productive work, creation of appropriate conditions, and many other things. Also, remember that due to the high turnover rate, there is a strong probability of additional expenses. Indeed, according to recent studies, replacing a full-time professional can be worth about one and a half or two times this person's annual income. 
Shortage of technical skills
Even if you have managed to hire employees quickly enough and save time, there is no guarantee that they will have the skills and knowledge to complete the project. You can check and ensure that their qualifications meet your company's standards. However, tasks may require additional knowledge, which requires extra time and cost. Such a situation, in turn, can lead to delays in meeting commitments and cost overruns. 
IT Outstaffing  Benefits For Companies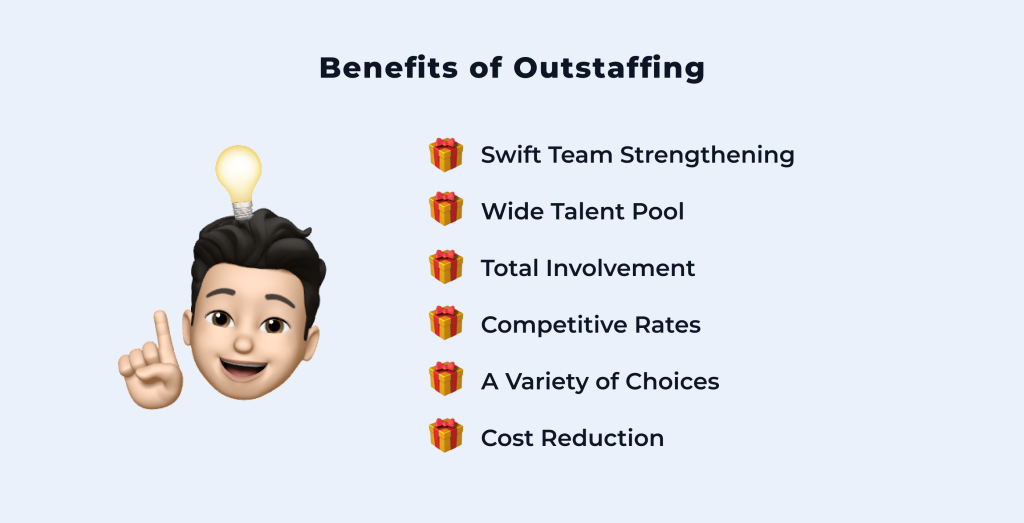 Swift team strengthening
Your specialists cannot always start working right away if you have an urgent task to create a new product, refine or scale an existing one. They might already be working on other projects or need additional experience and knowledge. Besides, you might not have any plans to hire more people. Even if you search for a new expert, it will take weeks. You will lose valuable time, and the technical debt you owe the customer will grow. In this situation, the optimal course of action is to use the services of outstaff companies. They can immediately offer developers with rich experience and in-depth expertise in various fields.
Wide talent pool 
One advantage of outstaffing over in-house development is having access to a broader pool of highly skilled specialists. Choosing the most suitable candidate for each role is generally more straightforward when you employ offshore software development compared to working with the in-company team. Your company space does not limit you. It is also rather beneficial that outstaff developers constantly improve their skills by working on projects of varying length and complexity. Their work principles provide them with all conditions to develop professionally, not in one area but also in related ones.
Total involvement with the product
When you cooperate with an outsourcing company, it works according to its principles and internal order. While working with outstaff developers, the situation is different. They are completely immersed in your work processes and company policy. They must recognize your working methods, corporate culture, and work schedule. Integrating into all processes, they are also motivated for a positive result and high-quality fulfillment of their obligations, just like a full-time in-house team.
Competitive Rates and a Variety of Choices 
You are limited in some way when you work with the in-house team. You work with those specialists that you already have. As we wrote earlier, finding and hiring a new employee is time- and effort-consuming. Besides, there is no certainty that in the future, you will need the services of this particular developer with such skills and experience. The developer's price will be fixed and limited by the market price of your region. When outsourcing and outstaffing, you have a wide choice of professionals with different experiences and technical skills whose location is wider than your area.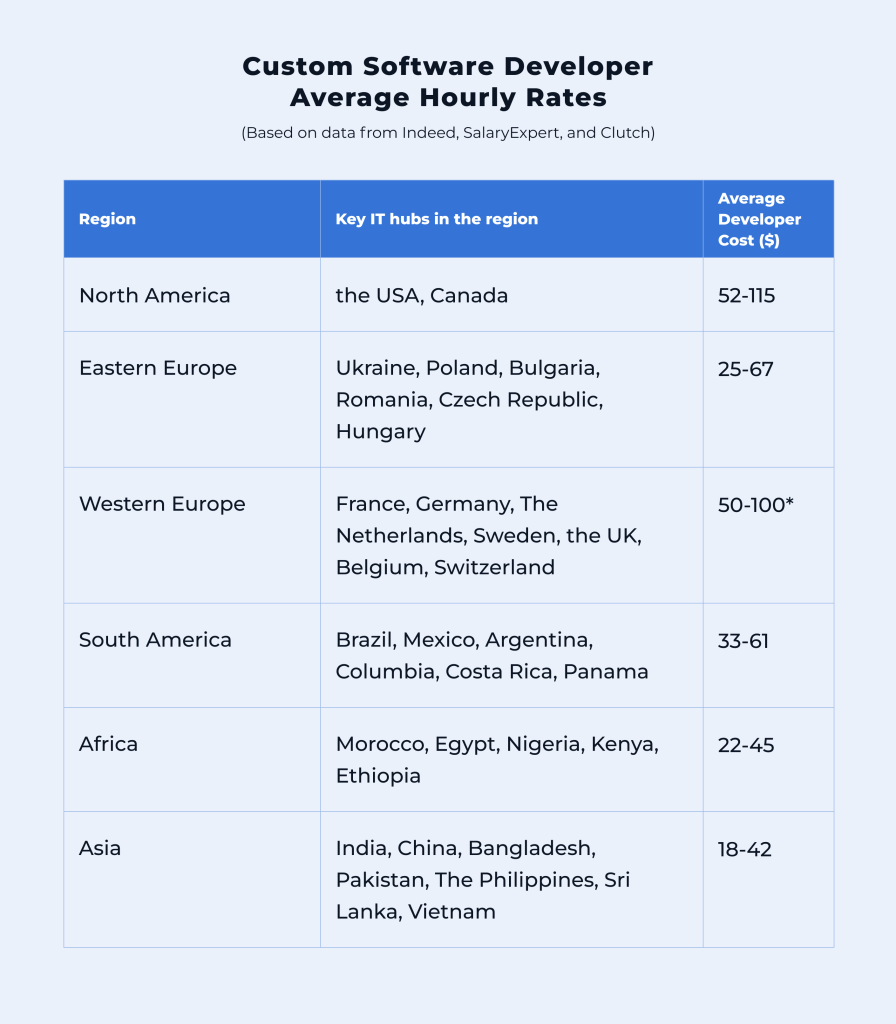 After reviewing the hourly rates of software developers worldwide, you can weigh the pros and cons, choose the one that suits you the most, and work directly on your project, diving deeper into its essence. In case of unsuccessful cooperation or certain challenges, you will simply no longer work with this firm or freelance developer.
Reduction of the company's material and non-material costs
For hired full-time employees, you pay not only salaries but also various benefits such as sick leave, vacations, and health insurance. Your company may also provide personnel with partial or full reimbursement of advanced training courses, workshops, and visits to sports centers. The costs listed above automatically disappear when working on the outstaffing model, which provides for the coverage of all these expenses by the company in which the hired employees are registered. What's more, you significantly reduce your administrative burdens while maintaining direct control over your staff. After all, you do not need to resolve such employees' disputes and claims. All points are negotiated in advance and specified in the contract.
Who needs IT Outstaffing?
The scope of business and the size of the project play a minor role in deciding whether or not to work with IT outstaffing agencies. You can operate in FinTech, Real Estate, Entertainment, Ecommerce, FoodTech, or any other niche. Your project can be relatively small and completed within a month, or, vice versa, large-scale, which will constantly develop. IT outstaffing services will suit you.
The crucial point is your priority to find highly qualified and experienced developers who will help you optimize your processes and costs. Additionally, you might require trained personnel urgently or temporarily, or you might need to deploy specialized technologies that are difficult to obtain in your region. In such cases, you can not even doubt and not hesitate for a long time. 
How do we do this at PowerCode?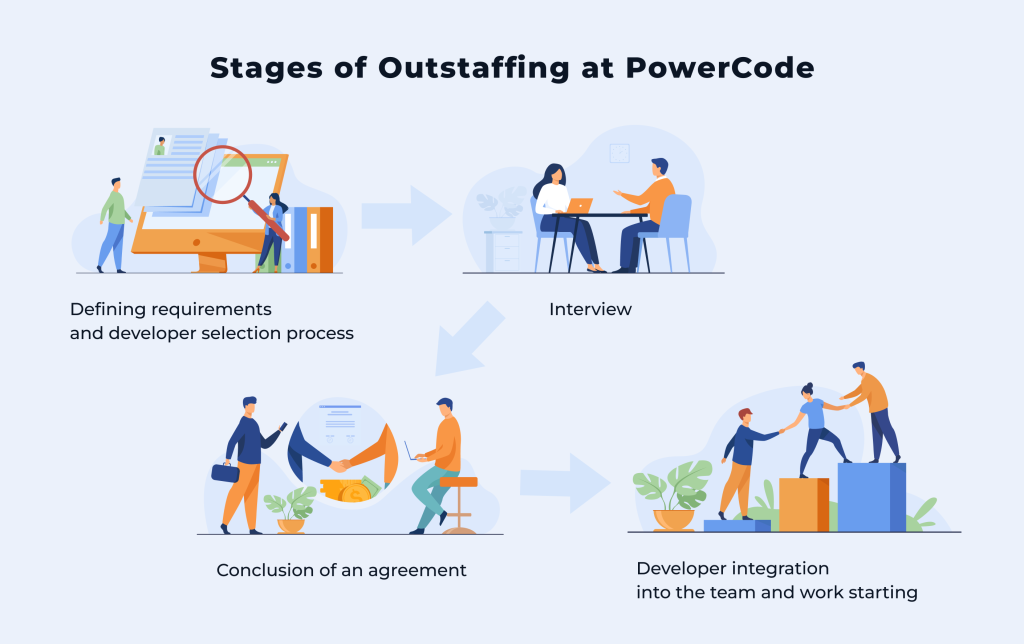 Powercode, an international custom software development company, has been providing reliable premium services in mobile development and web application development for more than seven years. Our top-notched developers can run a project of any complexity. The outstaffing process that we offer is simple and transparent. 
Stage 1. Familiarization with requirements and developer selection process  
The first step we will take is to review the soft and hard skills required for working on your project to find the most suitable candidates. Then our specialist, who will accompany you during the project, will schedule an intro call to get all requirements and cover all interaction processes. It is also possible to involve a technical specialist to dig deeper and get to the core of your product's functionality. We generate a candidate pool that complies with your demands. Together, we arrange a technical interview so that you select the top prospects to work on your project.
Stage 2. Interview 
During the second phase, you interview pre-selected professionals and check whether they match your requirements. In addition to live communicating, where you test their soft skills and communication level, you can ask our candidates to complete a technical task to check their technical skills. 
Stage 3. Conclusion of an agreement
The recruitment procedure continues after the appropriate specialist has been chosen. We proceed to the stage of drafting and signing the contract. Both parties check every detail and condition, determining the cost and time a person will spend on the project.
Stage 4. Developer integration into the team and getting started
Once every formality has been fulfilled, the developers start performing their duties. As a contractual authority for outstaffing services, you grant our employees access to the essential data, the development environment, your communication channels, and a task tracker to enable them to run their work smoothly and efficiently. Every developer will be assigned to an Account Manager who will track their performance and send out invoices under the contract. At the same time, to make our cooperation efficient and seamless, our account manager has the right to listen to your concerns about the developer's fulfillment of duties and take the necessary steps.
Wrapping Up
Many business founders have already appreciated the benefits of working with outstaffing companies and prefer them while choosing whether to hire a new employee to the office or use services from outside. Through outstaffing, they may fast add talented programmers to their team. Of course, what is best for you depends on your specific needs and the conditions in which you find yourself. But it is also essential to avoid making mistakes when choosing a partner.

Powercode values its customers and is always ready to choose from the extensive database of candidates. We offer a committed deadline-driven team that will share their visions based on rich practical experience and will advance the project technologically. Our specialists are waiting for your requests here.

0